A WordPress website builder does a lot of the heavy lifting when it comes to creating a brand new website or an integrated online store.
Is WordPress a good website builder?
The self-hosted WordPress is our first and foremost recommendation thanks to its flexibility, popularity and scalability.
Flexibility: Plenty of themes and template resources come with great customizability so that you can build any layouts and styles you can think of.
Popularity: Large user base including a volunteer community ready to help you out.
Scalability: Start small with basic shopping cart features and then grow to a full-fledged professional online business or a multi-store.
In my opinion, in order to choose the right WordPress page builder or theme builder, you need to consider the following points:
Pricing: Is it offering an affordable pricing plan?
Ease of use: Is it easy to customize each element?
Picking an author/service provider with a money-back guarantee test drive, or a free plan might be of great help.
Customer support: How fast is their support?
Asking some presale questions will help you evaluate this.
Now let's take a look at the best website builders for your future WordPress store.
1. Thrive Suite – Visual Theme Builder
Thrive Suite is an all-in-one website builder for professional agencies. Specifically, they offer a bundle to give you access to a full set of web builder and marketing tools, including but not limited to:
Thrive Theme Builder: create a full WordPress website using visual editor
Thrive Architect: drag & drop landing page builder
Thrive Quiz Builder: use quizzes and surveys to collect leads
Thrive Leads: create opt-in forms and build email marketing lists
Thrive Optimize: conversion-optimized A/B tesing for landing pages
Thrive Apprentice: offer professional online courses
Thrive landing page library comes with various well-designed templates, pages, and sections. Even if you've just jumped into Thrive eco-system, it takes no time for you to quickly learn how it works.
Thanks to the breadcrumb trail, you can easily navigate the web page's background section, column, row, content box, text, media, and so on. All elements are also fully-customizable and your creativity will find no borders on Thrive platform.
If you're looking to monetize your blog by transforming it into an e-commerce site, integrated WooCommerce and ShapeShift theme can make it a dream come true. Thrive Suite allows you to customize product pages, account page, checkout page, cart page, and your shop homepage.
Pricing: $228 per year for up to 25 websites including unlimited support & updates
Features:
290+ beautifully designed landing page templates
Enhanced WooCommerce setup wizard
Including Thrive-optimized Shapeshift WordPress theme
Tons of features and flexibility
2. Visual Composer – Complete Website Builder
Visual Composer is a professional web design framework to help you create a full-fledged website without hassle.
Embracing a full drag and drop user interface and hundreds of content elements and templates, Visual Composer makes it super simple to build your WordPress site of dreams.
If you want to create an entire WordPress website for your blog, news archive, or portfolio all by yourself, Visual Composer is the to-go site builder to start with. It provides a handy free plugin to help you get used to the way it operates very quickly.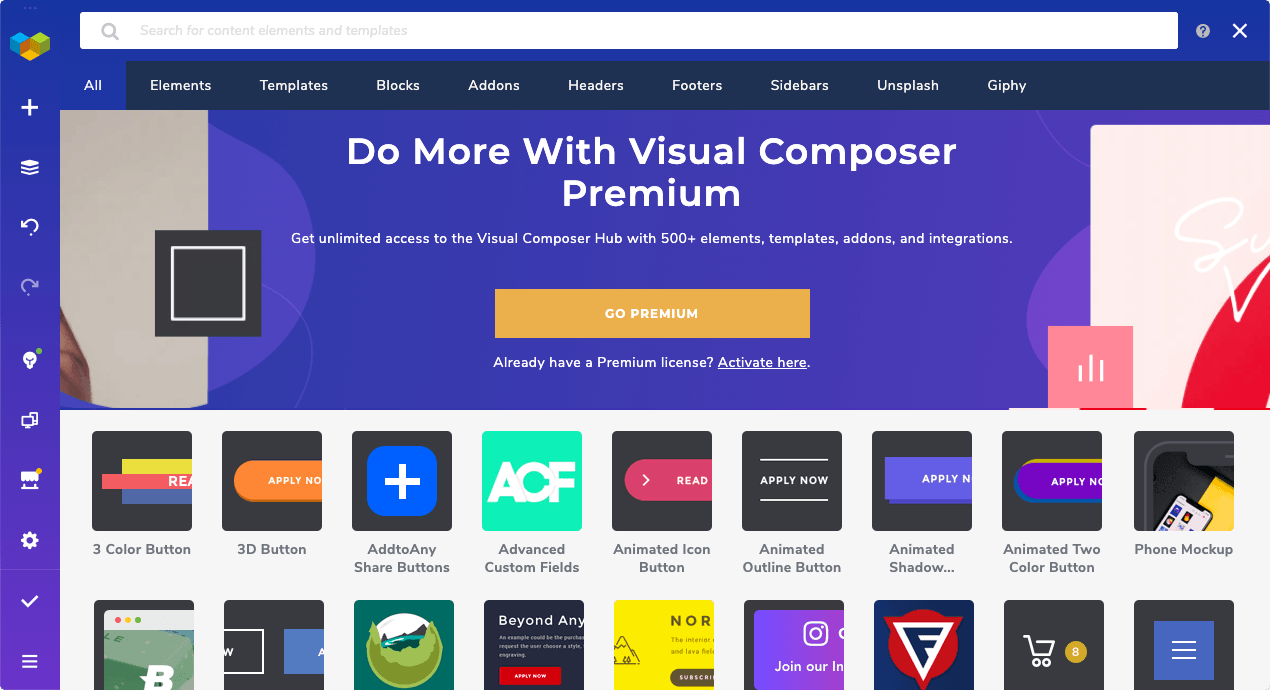 Pricing: $49 for 1 site including 1 year support & updates
Features:
Ready-to-use headers, footers, sidebars, and templates from the Visual Composer Hub
Including maintenance mode for your WordPress site
Custom archive pages, categories, tags, authors
WooCommerce-supported blocks
Very easy to use
3. ColibriWP
Colibri is a WordPress page builder with live editing customizer and many predesigned website templates. It comes with a free WordPress theme called Colibri WP. In order to unleash the powerful customizability, you will have to upgrade to their Colibri page builder.
The ColibriWP customizer is an all-in-one website editor to customize from the header to the footer and everything in between. The whole screen is not in drag-and-drop interface. However, you still can drag and drop blocks on the left-hand customizer, and it equally makes the same results as in Elementor page builder and the likes.
Colibri page builder's handles are also easy to grip and take actions. Thus it is simple to add/edit rows and columns, copy/paste style, and tweak advanced web design. This website builder takes care of all the techie things so that you can focus on human resources and business growth.
With Colibri website builder, you might not need to install or buy fancy extensions to add galleries, slideshows, image collages, contact form blocks… since it has you covered.
Pricing: $79/1 site/1 year support & updates
Features:
Excellent UI/UX design
150+ predefined blocks
WooCommerce-ready
Mobile responsive
Great customer support
4. Newspaper
Newspaper is a stable and long-existing WordPress theme that lets you create from a content-rich blog to a complex newsroom website or news network.
If you are a publishing advocate, this is the ideal choice for you. As Newspaper theme handles everything for your back-end and front-end, you can focus on curating and generating good content.
Integrated with Instagram, bbPress Forum, BuddyPress and WooCommerce, your website content becomes searchable & discoverable on the internet. It provides you with many creative ways to build a community and SEO value. Besides, reaching out to new audience is simple with WooCommerce email customizer.
Being relenlessly optimized, Newspaper theme pack has a lighter page size and much higher pagespeed score. It also has tiny but interesting features for publishers including news ticker, formatted data screen, headlines bar, and so on.
Pricing: $59 including 6-month support & unlimited updates
Features:
User-friendly theme panel
100+ unique pre-built websites
1300+ pre-made design templates for posts and pages
Inline Google AdSense and other ads platforms
Over to You
If you're looking to create a brand new WordPress site or turn your current site into an online shop, a WordPress website builder always help quicken the process. Some of them offer a drag and drop interface while others do not. As long as they provide you with fully-customizable templates, drag and drop ability might not be really critical.
I hope you can find the takeaways from the above article. Should you have a better WordPress website builder or framework, please leave us comments.
For more helpful ecommerce strategies and tactics, check out further topics in our WooCommerce tutorials.