Adding wholesale and B2B functionality to your WooCommerce store is a big step toward increasing your revenue while saving support and shipping costs.
Today we introduce the top solutions for enabling quote request, wholesale user roles, and other business-to-business features. These WooCommerce B2B & wholesale plugins are including free, paid, and also freemiums.
Together, let's choose the one that will help you serve bulk buyers much better.
1. WooCommerce B2B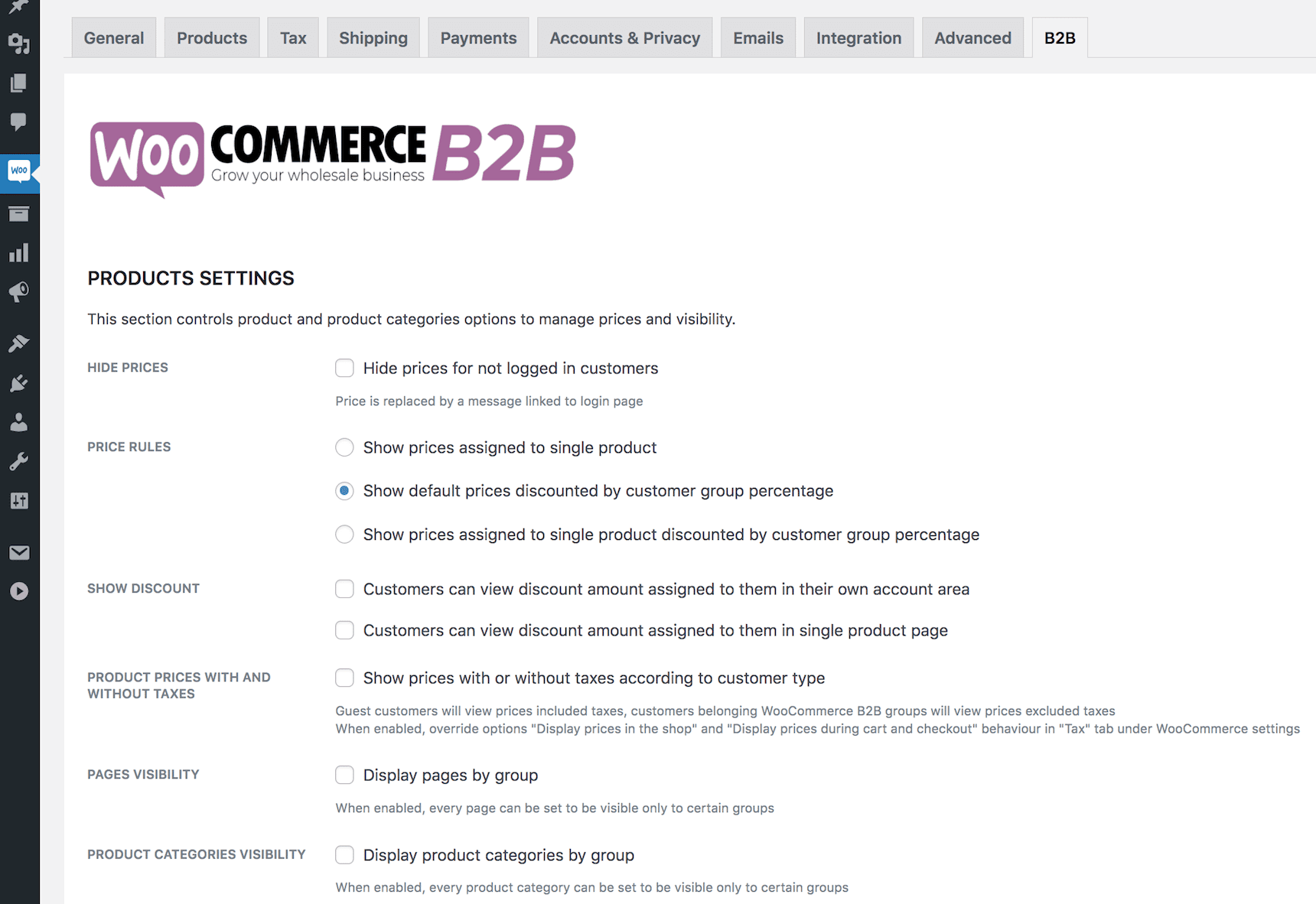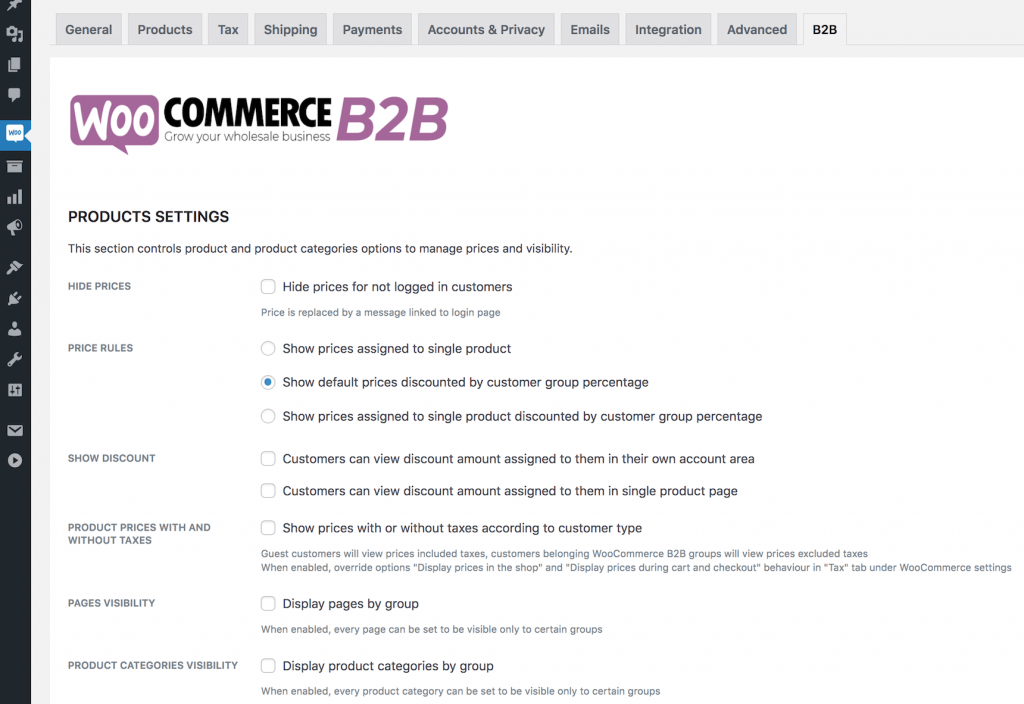 Being sold on Envato Market, this plugin only requires you to pay once to get unlimited updates. Without recurring charges, WooCommerce B2B is quite a top choice when it comes to setting up new wholesale stores.
WooCommerce B2B plugin serves both B2B & B2C customers. You will gain full control over different aspects of your online shop:
Quote request, form, and notifications
Enable/disable payment methods to different groups
Flexible visibility for pages or categories
Set personalized price rules
VAT and tax exemption supported
2. B2B & Wholesale Suite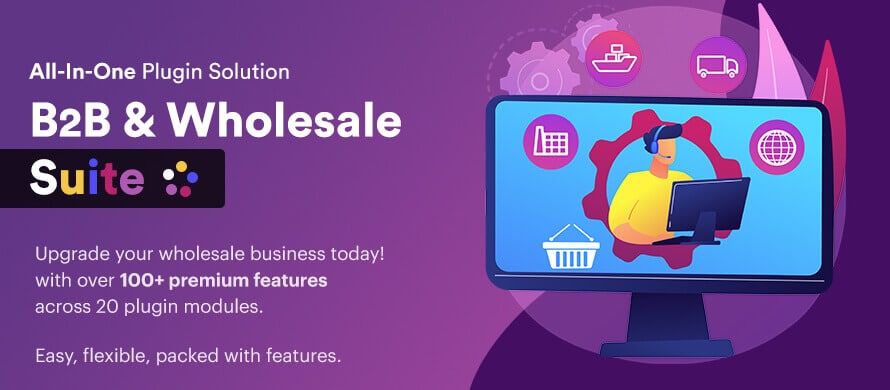 B2B & Wholesales Suite is a professional WooCommerce B2B plugin packed with advanced features. It allows you to transform your store into a fully wholesale business or a mixed shop for both B2C and B2C.
By choosing between fully wholesale and hybrid shop, you won't have to miss out on any potential customers.
As shown on the Settings tab, all options are straightforward and easy to follow. You'll be able to set product and price visibility to guest users. Your visitors can be required to log in or request a quote.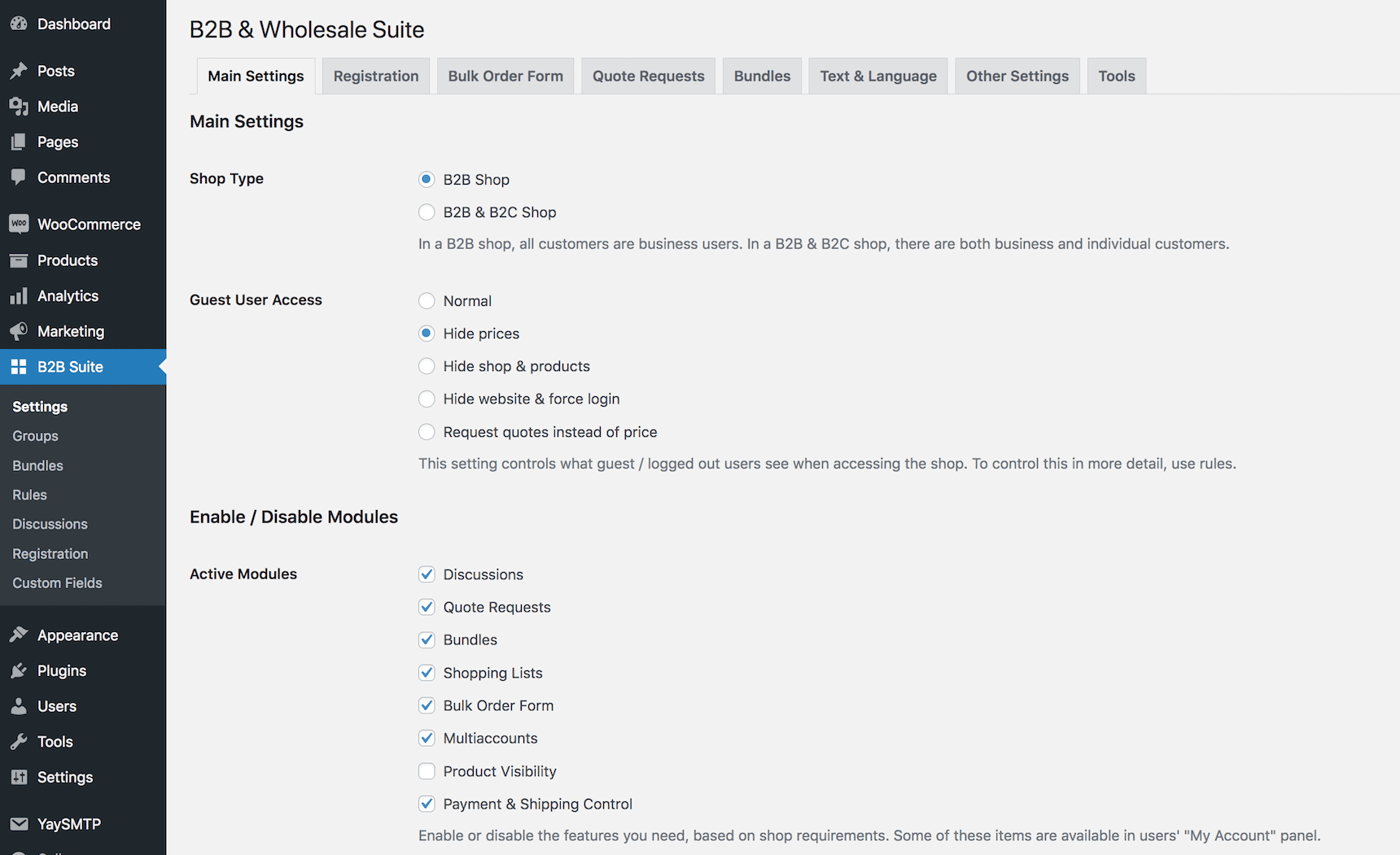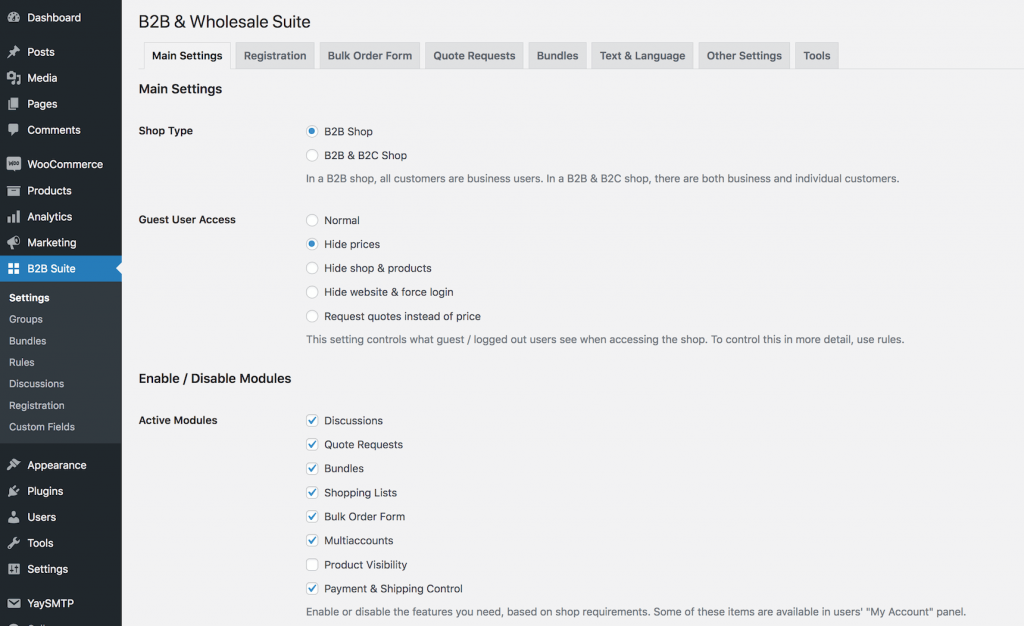 Depending on your store setup, you can choose to enable sale assistant modules including discussions, bundles, shopping lists, bulk order form, payment & shipping control and so on.
Notable features:
Customizable quote request forms
Product visibility by Product, Category, User, and Group
Business Registration with manual or automatic approval
Tax exemptions and VAT Number validation
3. Wholesale Prices for WooCommerce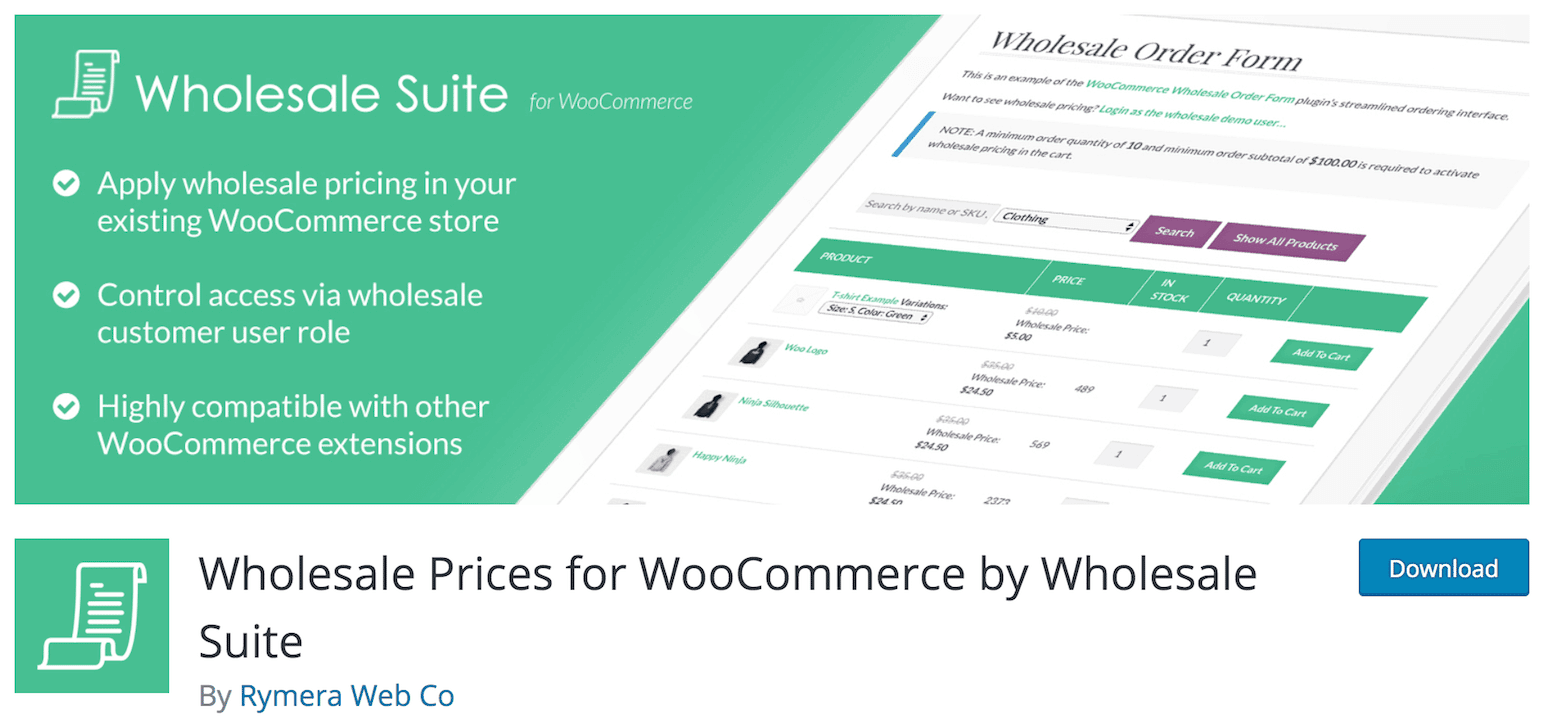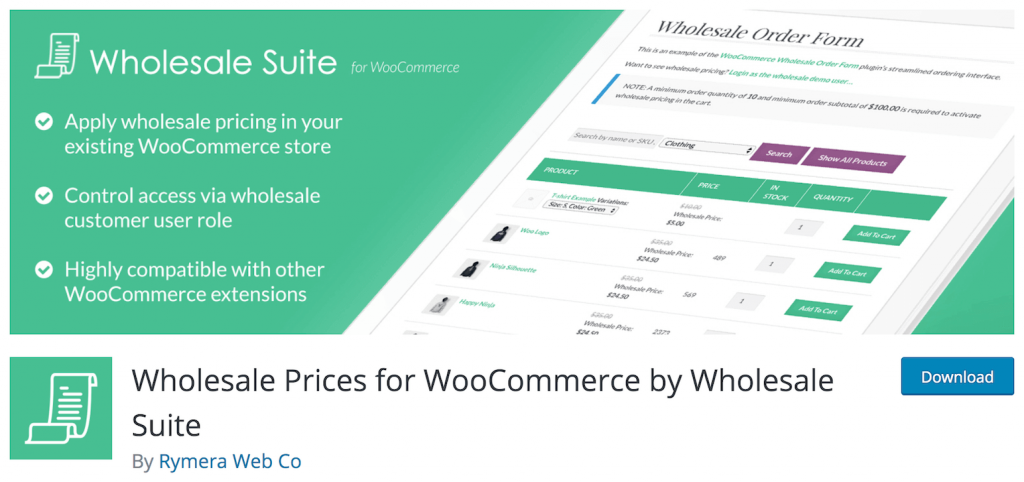 Wholesale Prices is a free portion of Wholesale Suite yet it offers many flexible features.
It creates an integrated tab into WooCommerce menu and from there you can easily find all of the options. This plugin helps you easily add set wholesale prices for simple products and their variants. These prices can be shown or hidden based on the user role, product listing position, and coupon validity.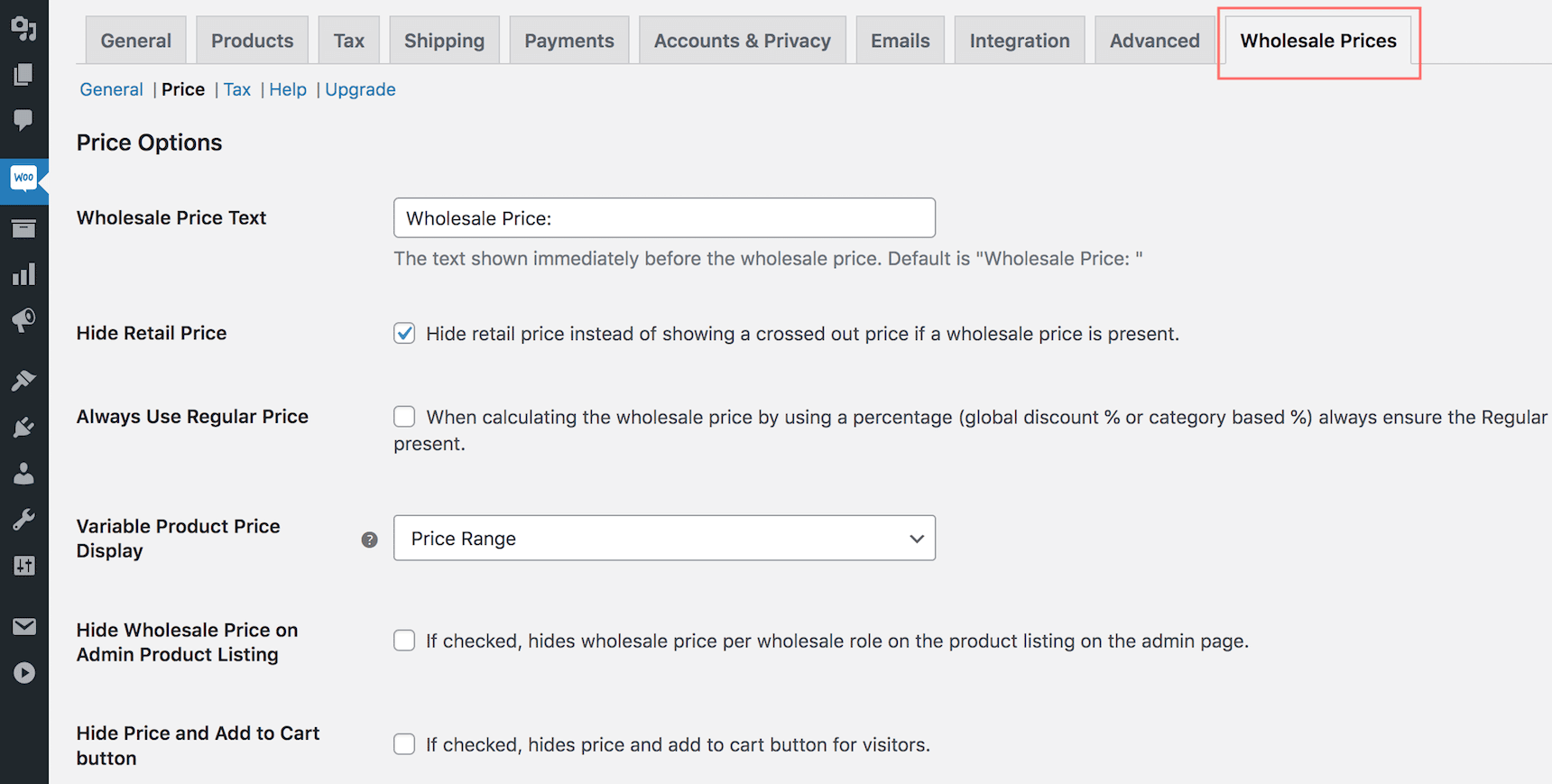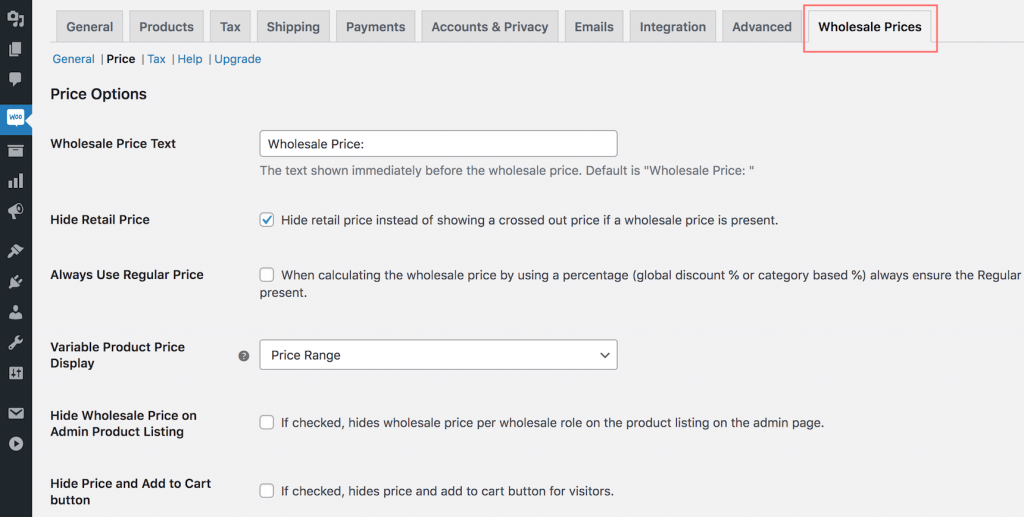 It is a great way to start your B2B wholesale WooCommerce store. When your business grows, you can easily adopt their premium plan which include Order Form and Lead Capture extensions.
Key features:
Adds new user role for Wholesale customer
Allows you to have both regular prices and wholesale prices
Allows multiple levels of pricing
Can hide price and Add to cart button for non-logged-in users
4. B2BKing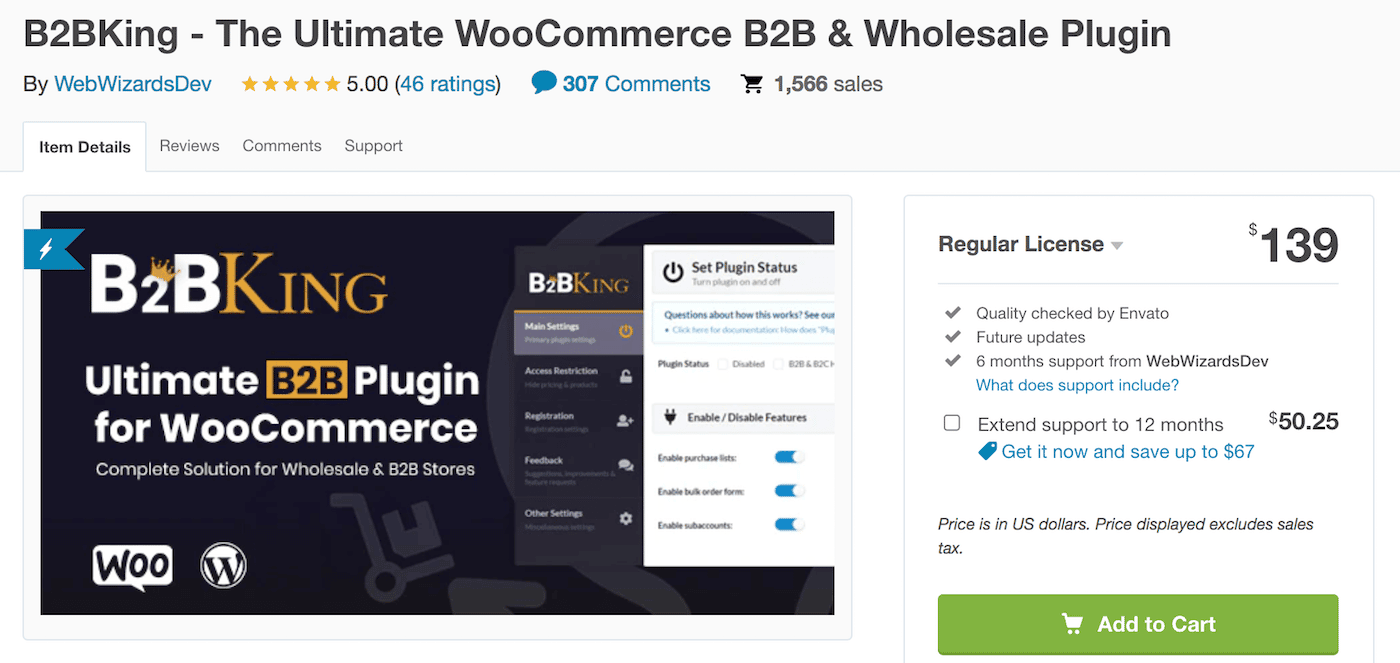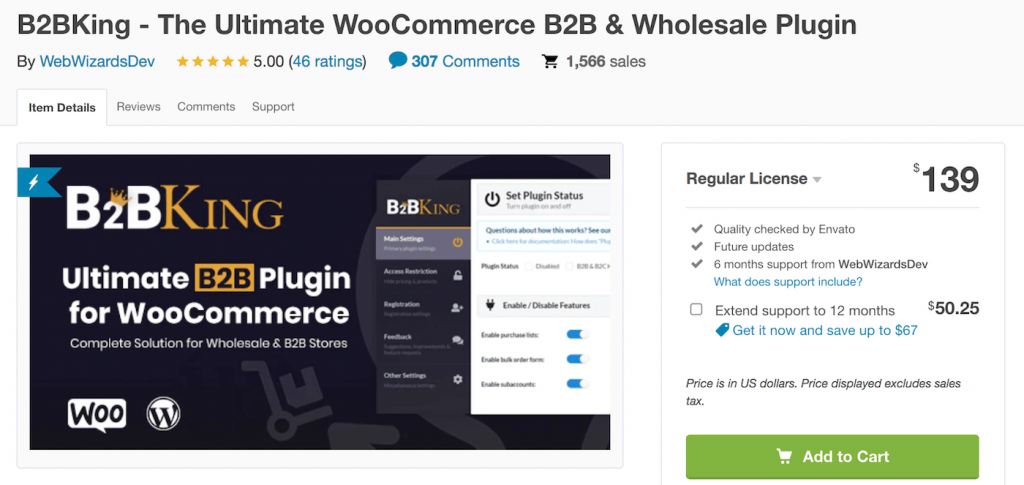 B2BKing is yet another good option for starters. It comes in a free open source version and another one-time purchase license on Codecanyon.
In the free version, you can create unlimited registration roles including Reseller, Manufacturer, Distributor, etc. It allows you to control available shipping and payment methods for each B2B group, for B2C users, and for logged out users.
Check out the B2BKing free version that is suitable for smaller stores.
5. B2B for WooCommerce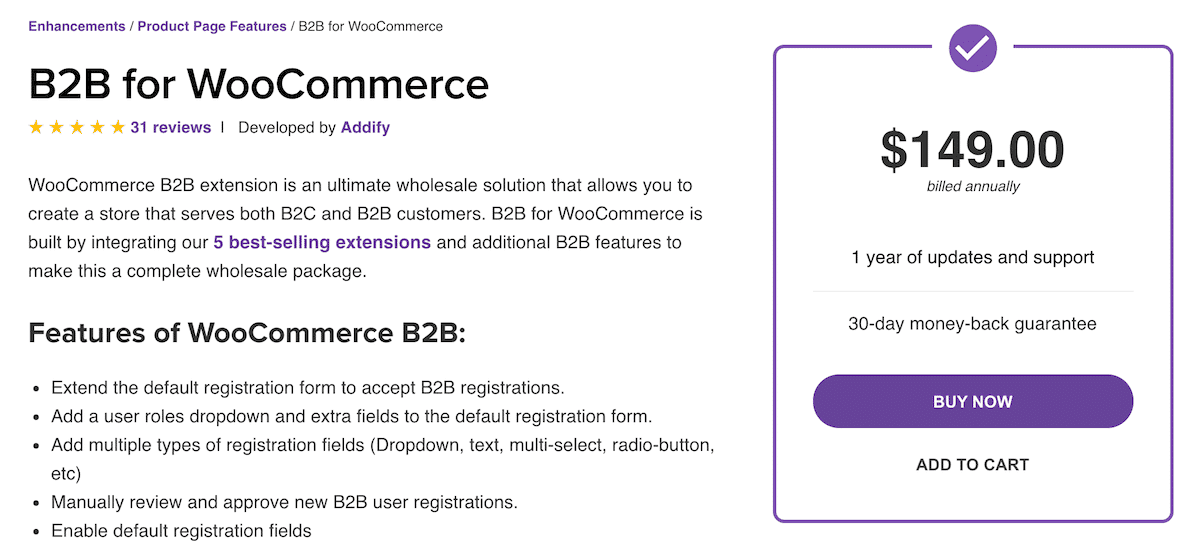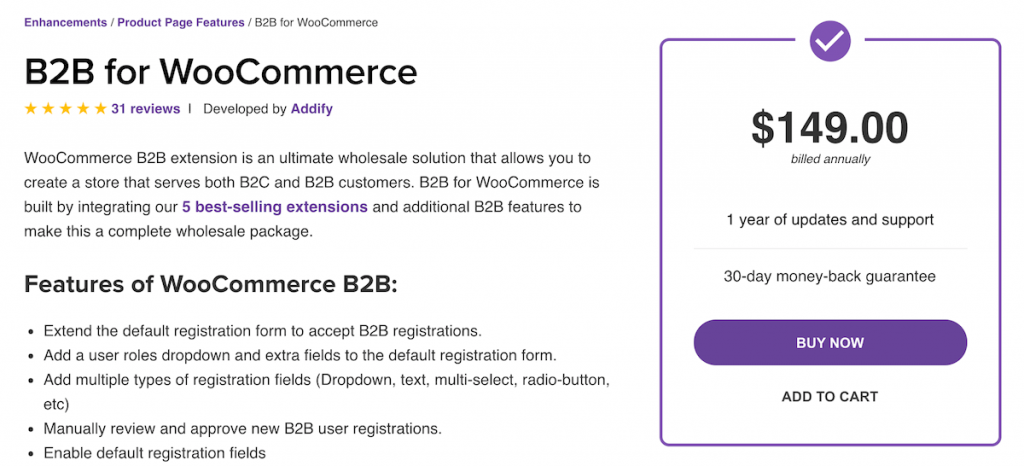 5 advanced extensions including:
Custom User Registration Fields for WooCommerce
Products Visibility by User Roles
Role Based Pricing for WooCommerce
Request a Quote for WooCommerce
Tax Exempt for WooCommerce
6. Wholesale Market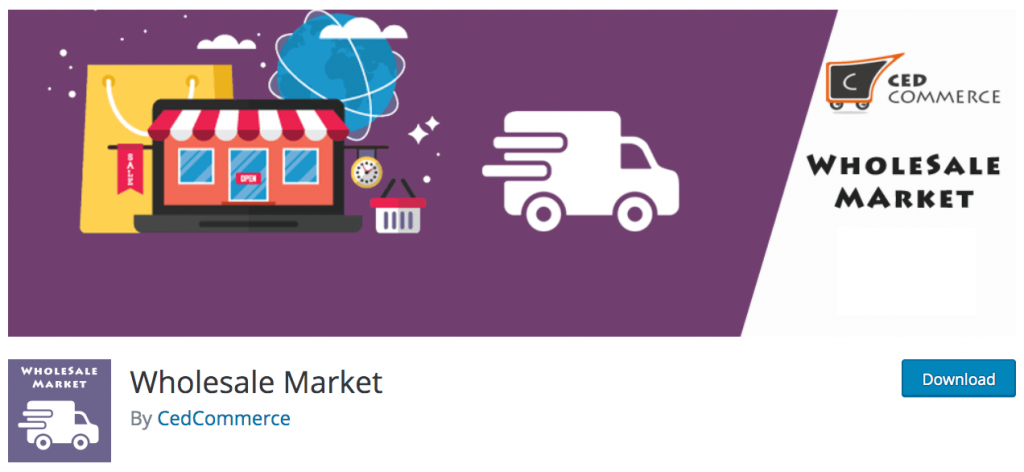 This is an easy to use plugin to help you displays wholesale prices on product listing pages. It creates new options right into WooCommerce menus. There you can easily add meta fields for wholesale pricing and minimum product quantity in Simple as well as Variable Product.
On the shop page, you can show 2 prices at the same time or hide regular pricing to wholesale users.
7. ELEX WooCommerce Role Based Pricing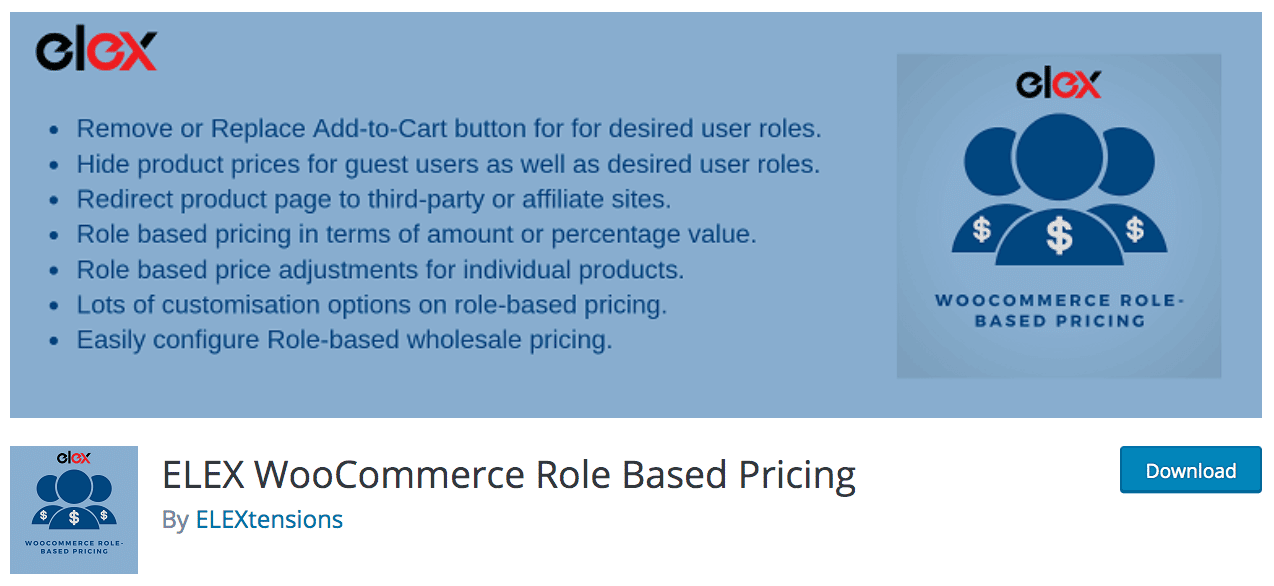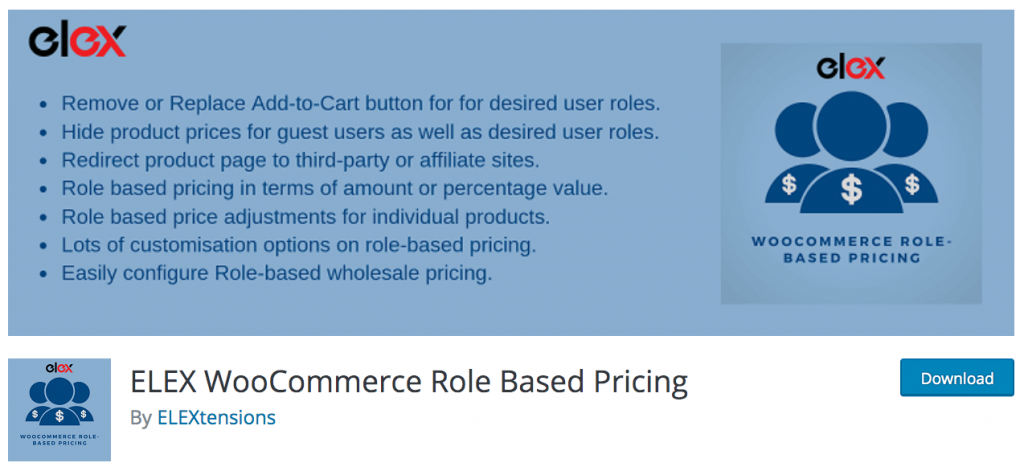 This WooCommerce pricing plugin allows you to set custom prices and buttons based on user roles.
It can replace the Add-to-cart button with a custom button on product pages and shop page. If you wish to redirect your customers to another site for specific products, you can set a custom URL for the custom button on the shop/listing page.
You can also set discounts or markup prices for product categories based on customer user role.
8. WooCommerce Wholesale Pro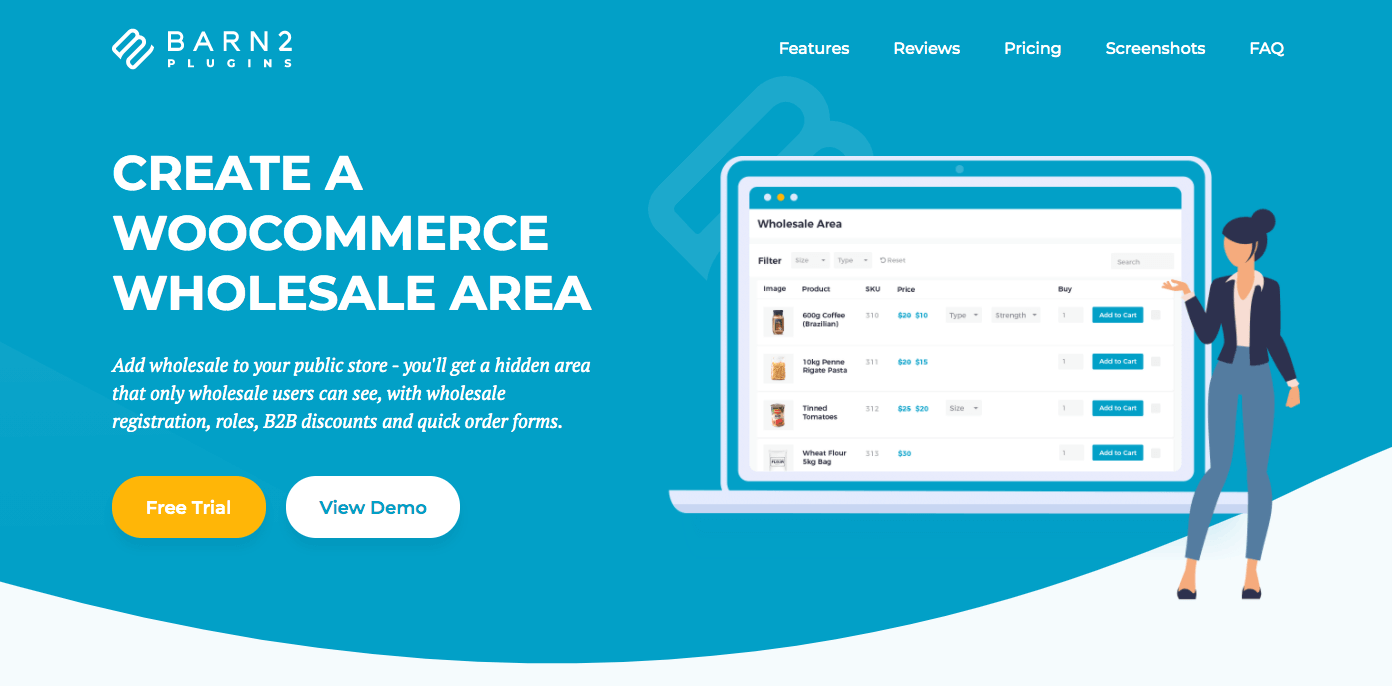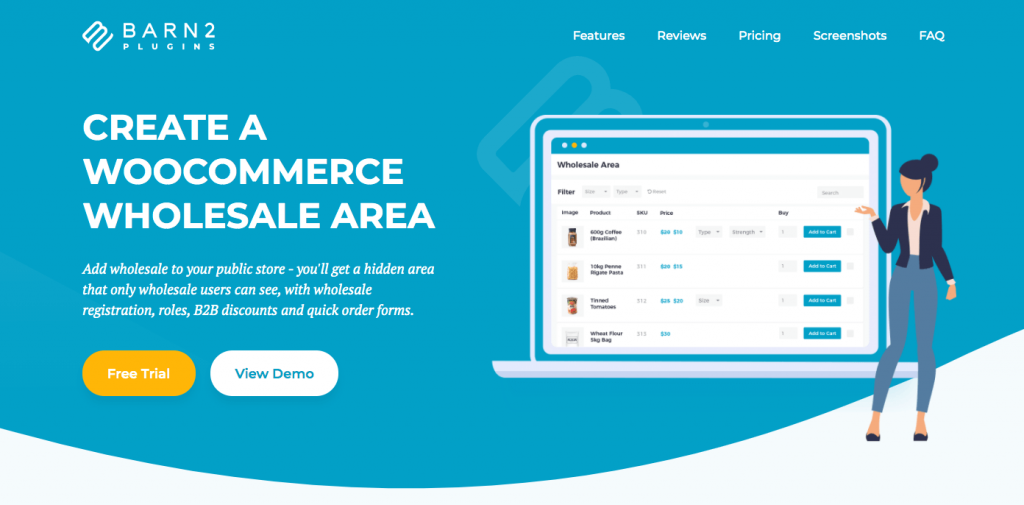 This plugin helps add a custom wholesale area with wholesale registration, roles, B2B discounts and quick order forms.
Flexible pricing options: the ability to offer discounts site-wide, category or product based
Wholesale visibility options: show/hide product categories, payment and shipping methods, taxes and coupons to specific user roles
Customizable registration form: notification emails and moderation option for approving new wholesale accounts
9. Wholesale For WooCommerce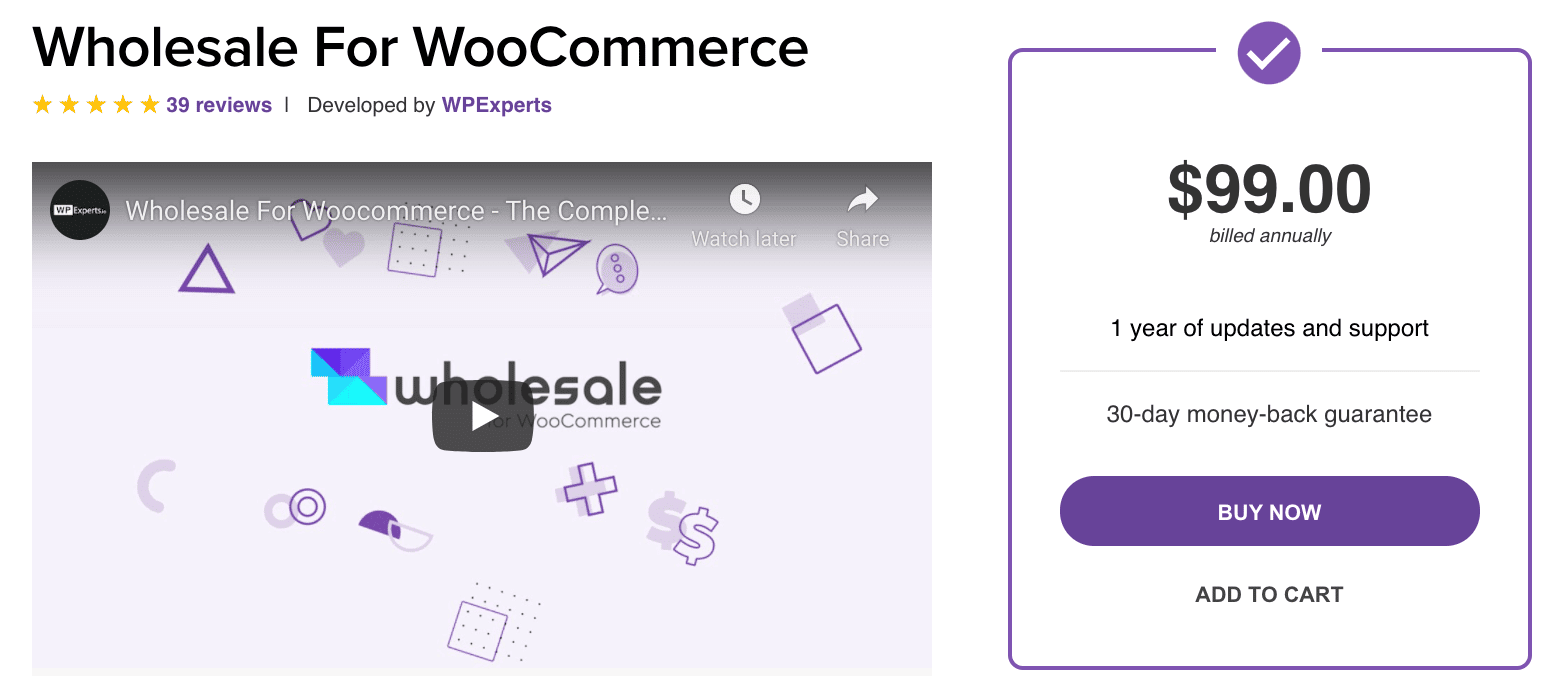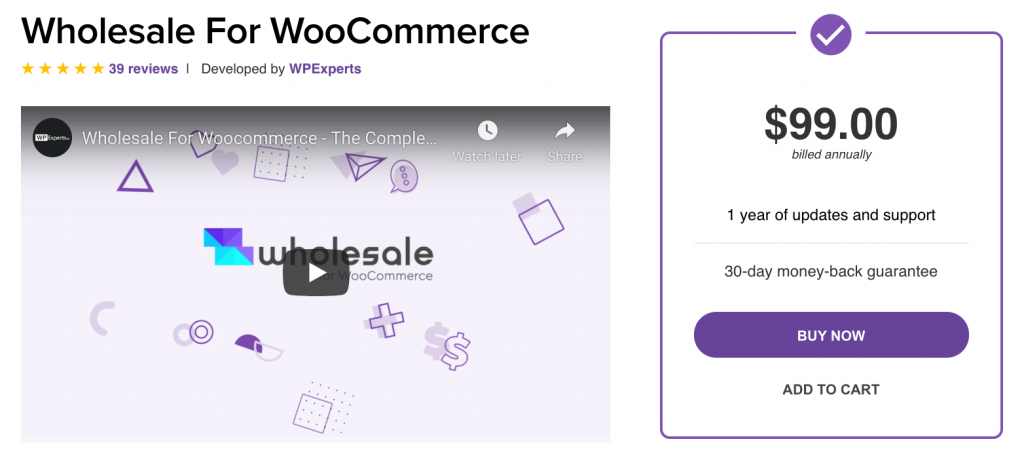 This wholesale extension offers a complete suite for WooCommerce B2B and B2C stores.
It is packed with tons of features and continual developments.
Latest notable features include:
Order filters for wholesalers/non-wholesaler
Wholesale-only password protected stores
Override registration form on My account page
Registration form redirects after submission
10. WooCommerce Wholesale Pro Suite


This Wholesale Pro Suite is a premium-only plugin. It's a choice for professionals with high performance and frequent updates.
It covers every demand for expanding wholesale ability as well as setting min and max quantities, order totals, messages, etc.
Powerful features come in the suite that you can't find in other plugins:
Invoice payment gateway: allow your wholesale buyers to checkout without paying
Dropshipping-friendly: compatible with many dropshipping extensions for WooCommerce
Additional product addons: add conditionally display fields on WooCommerce pages
Conclusions
"Which WooCommerce B2B plugin is the best?" is always a tough question. With our little guide, you can test the free solution/free trial out beforehand and choose to stick with it or go with the upgrade later.
That's all we have for the best WooCommerce B2B & wholesale plugins! If you'd like to mention your favorite WooCommerce plugins, let us know in the comments below.